Image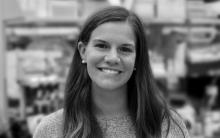 Dr. Linda Amarante is a current F32 award recipient who used the funding opportunity to better understand the corticostriatal pathway. The F32 funding opportunity supports the research training of promising postdoctorates early in their postdoctoral training period.
The NIH BRAIN Initiative funding portfolio enables the collaborative and multidisciplinary research necessary to help us understand the brain's complexities. Dr. Linda Amarante received a BRAIN Initiative F32 Individual Postdoctoral Fellowship award to support her research on the neural activity behind the decision-making process. The F32 program rewards promising postdoctorates early in their careers by enhancing their research training in project areas that advance the goals of the NIH BRAIN Initiative. This article is part of a series that highlights the careers of NIH BRAIN F32 grantees. The next deadline to apply for an F32 award is April 09, 2024. 
Check out the interview below to learn more about Dr. Amarante's postdoc research to investigate value-based decision making within the corticostriatal pathway. She discusses what inspired her research, how she handled research projects in a cross-country move, the importance of mentorship, and what she hopes to achieve in the future.
Would you please briefly introduce yourself?  
I am currently a scientist in the Allen Institute for Neural Dynamics (AIND) team at the Allen Institute in Seattle, Washington. I moved to the Allen Institute in September 2022; before then, I was a postdoc at Johns Hopkins University working with Dr. Jeremiah Cohen in the Department of Neuroscience. Dr. Cohen moved his systems neuroscience lab to the Allen Institute in 2022, and I came along to continue my research with him. I did my Ph.D. work at American University in Washington, D.C. with Dr. Mark Laubach, studying the role of the frontal cortex in reward-based behaviors.
My current research project is on the role of the corticostriatal pathway in value-based decision making in the mouse model. I'm specifically interested in how this pathway (from the medial prefrontal cortex to the dorsal medial striatum) computes representations of value and action, respectively, and how value information is converted into an action plan for downstream areas of the basal ganglia and along the cortico-basal ganglia-thalamocortical loop.
I perform extracellular recordings in mice as they participate in decision-making behavior. I use transgenic mouse lines to target specific cell types in the medial frontal cortex and striatum (dopamine D1/D2 receptor neurons, for example) to identify the respective roles of these given cell types during decision-making. Mice perform in a dynamic foraging decision-making task, where they are required to lick either to a left or right spout to receive probabilistic water rewards with independently changing probabilities at each spout. This is a rich yet carefully controlled behavior that allows us to assess all aspects of the decision-making process (representations of value, learning and strategy, action selection, reward harvesting, outcome evaluation) while making simultaneous extracellular single-unit recordings of optogenetically identified neurons in medial frontal cortex and striatum. Additionally, I am currently expanding the dynamic foraging licking task into a joystick-based task, where mice make forelimb movements to execute choices. This will help to provide more detailed movement kinematics during ongoing actions to correlate motor output more closely with neural activity during decision making.
What led you to research? What continues to drive your ambitions as a scientist?
My research interests are largely due to my experiences growing up as an athlete. I grew up playing many sports and played college softball at Long Island University. As a student of the game, I tended to (over)analyze my swing when up to bat, wondering why I kept making similar mistakes and errors, and I wanted to know how to change my actions to better succeed in the game. I became deeply interested in the decision-making process, wanting to know all about what areas of the brain were responsible for my successes or failures on the softball field.
I enjoy this field because it is always relevant to our everyday lives. It's so simple to find representations of foraging and decision making in our daily lives; whether it is searching for the optimal sushi restaurant or seeking out a favorite food item at the local grocery stores during the pandemic, we've all experienced some form of this same behavior.
What major unanswered questions do you hope to address?
Simply, I hope to "find a role" for given cell type populations within the corticostriatal pathway during decision-making, along with propose and test theories of how these neurons compute and convert different types of value information during decision-making.
Additionally, a major overlooked anatomical feature of the striatum is that it is largely organized into striosome (patch) and matrix compartments. While there has been inspiring groundwork in the field by Dr. Ann Graybiel and others, there is still a gap of knowledge of the functional role of cells existing in striosome versus matrix compartments. I feel the timing is ripe to try to parse out these potential functional differences, due to the advancement of recent transgenic lines and viral tools to target these different cell groups.
What are some of the challenges you have encountered in your research and/or career? How have you or how are you working to overcome them? 
Like many others, I started my postdoc in 2020 during the early days of the COVID-19 pandemic. I learned behavioral and surgical skills quite literally through video calls, and for almost a year only one person was allowed in a given lab space at a time, along with having only virtual lab meetings and no in-person seminars for almost two years. I am only where I am today because of my incredibly courteous lab mates in the Cohen Lab who made this very abnormal time feel more comfortable.
I then navigated a cross-country lab and personal move from Hopkins to the Allen Institute, which disrupted research experiments for a few months. Although moving across the country delayed my research progress a bit, coming to the Allen Institute has helped inspire me as a scientist by providing a massive science community. It is a neuroscientist's dream to be at a place filled with such rigorous science and talented scientists at all career levels. I am learning something new every single day here, from dynamic interactions within our neural dynamics team, or sitting in on an Allen Institute seminar series, journal or data club, or hands-on learning from other "allenites" here.
What would be the next step in your research (or professional development)? 
I am committed to seeking out a tenure-track faculty position, where I can perform my own independent research studying the neurophysiology of the corticostriatal pathway during decision making and can teach and mentor others. Proper mentorship is incredibly meaningful and important to me; I quite literally daydream about giving neuroscience lectures and providing training in the lab to trainees! I can't wait for the day I can inspire other scientists and hopefully give them some of the passion I have for making new discoveries of the brain.
I'm also very passionate about open-source science. I help with the Open Behavior Project, which acts as a repository of open-source tools for behavioral neuroscience research. The open-source neuroscience field has taught me creative ways to build a device or rig (or even a whole lab) and produce and document reproducible data. Open-source science is also a great low-barrier-to-entry way to introduce neuroscience research to students through teaching them computational, electronics, and engineering skills like programming up a microcontroller, 3D printing, soldering, etc. I cannot wait to use this model eventually as a way to inspire a new generation of neuroscientists.
What would be your advice to others who may want to apply to the BRAIN F32 program?
Applying is half of the experience! I found that just writing the F32 application was an incredible learning experience to see if you might "enjoy" writing a grant (I may regret saying this, but I truly enjoyed writing mine!), along with working with your mentor to brainstorm and develop testable hypotheses. I found that the process of applying aided in my maturity as a scientist, and I learned a lot about the BRAIN Initiative during the application process that will hopefully inspire my future experimental plans.
Another piece of advice is to take time to find a good supportive mentor/sponsor for your post-doc and for your F32 application; specifically, someone who will allow you the comfort and independence to "think big" with your project yet will leave you prepared to "defend" all aspects of your proposal. I feel very fortunate for the time, effort, and knowledge that my mentor, Dr. Jeremiah Cohen, provided during the application (and throughout the entire time of the fellowship).
Are there any specific relevant training and professional development opportunities that you find useful during the fellowship?
The BRAIN Initiative team provided a workshop on the "Next Generation of NIH BRAIN Initiative Leaders," which was a great way to get to know other BRAIN Initiative trainees and learn about the progression into faculty positions. I am also very excited for the Annual BRAIN Initiative Meeting, where I hope to meet other BRAIN Initiative trainees and principal investigators.
Fill in the blank: When I'm not working on a research project, I am…
Playing or coaching softball and baseball! I find it incredibly fulfilling to be an active member of the community I live in. During my Ph.D., I mentored and coached at the Washington Nationals Youth Baseball Academy in Washington, D.C. for eight years. In Seattle, I am coaching a youth baseball program at a local elementary school that is sponsored by the Drug Enforcement Administration (DEA)'s Educational Foundation. I'd highly encourage all scientists to find an outlet to give back or become active in their community.
Stay tuned for more highlights on BRAIN Initiative award recipients in some exciting, upcoming series on the BRAIN Blog. If you are a BRAIN Initiative F32 fellow and would like to be featured on our blog, let us know by sending an email to BRAINfeedback@nih.gov!